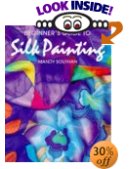 Beginner's Guide to Silk Painting
The author teaches various silk painting techniques step-by-step. For each project she provides a picture of the finished piece, a drawing of the design that can be photocopied, a materials list and pictures for each painting step. The instructions are clear, the projects appealing. The book also has one of the clearest instructions how to make your own steam-fixing device and how to steam fix. It's a great book that will get you started.
Christine Mariotti trained in New York State as a professional artist and teacher. Christine was drawn to the areas of surface design and textile sin graduate school. Much of her knowledge came from owning and operating Textile Resources, Ltd. o Learn the basics of painting on silk, from colourful scarves and shawls to decorative pillows and wall hangings. Master a variety of painting techniques, including using gutta resists, making dye washes, and creating special effects with salt and alcohol. o Discover tips for working with silk, as well as how to stretch and mount a variety of types of silk onto frames and stretcher bars. Find out how to steam-set your finished silk pieces to make the colours bright, and fade-resistant.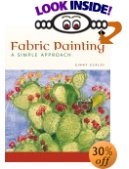 Fabric Painting: A Simple Approach
If you have a passion for unique textiles, you'll love these easy-to-master methods for creating vivid, picturesque images on silk, cotton, and other fine fabrics. Using minimal equipment, water-soluble products, and a range of surprisingly easy techniques, you can create one-of-a-kind fabrics with gorgeous results.
Whether you use your original fabrics in quilts, clothing, or accessories for home decor, Fabric Painting will give you the ability to showcase your personal style.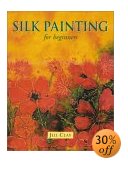 Silk Painting for Beginners
You will quickly master the techniques, including guttas, blocking, hombres, watermarks, and overpainting, as they are all clearly explained and shown. Follow the expert steps for choosing designs, mixing and controlling colours, and fixing dyes. And because silk painting is actually simpler than painting on canvas or paper, it's the ideal medium for beginners
I've started doing batik just a couple of months ago, and this is the third book I have bought from Amazon on this subject. I think this is the best of them three because it has very very clear instructions on every project the author suggests, great photos of each step, she shows very clearly a lot of techniques to use on different things (check out the lamp shade it's great) and I think most important of all she is very generous about her knowledge of batik, explaining everything that could happen if you do this or that, and with every day words, not all the technical-chemical mumbo jumbo i've found in other books. One last thing, check out her galley in the book: it's really beautiful!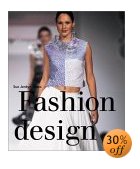 Fashion Design
Sue Jenkyn Jones teaches fashion design at Central Saint Martins College of Art and Design in London. The book describes the qualities and skills needed to become a fashion designer; examines the wide range of career opportunities available; and gives an authoritative, balanced overview of the fashion business today. Using an approach that unites history, theory, and practice, Fashion Design aims to inform and inspire. Packed with over 300 illustrations, here is practical guidance and proven advice on such topics as the uses and language of clothing; patterns and fabrics; measuring, cutting, draping, and sewing; building a collection; researching and sketching; portfolios and self-presentation; plus much more.
A superb reference book and an ideal instructional textbook for classroom use, this beautifully illustrated guide is organized into units that reflect required courses at leading design colleges. Twenty step-by-step exercises cover methods of finding inspiration, developing observation techniques, and creating fashion drawings in both colour and black-and-white media. This book guides students through their first steps in fashion illustration, covering everything that is presented in the best college-level courses. It makes a fine starting point for all students of fashion, introducing them to fashion drawing as a first step toward a career as a creative costumier